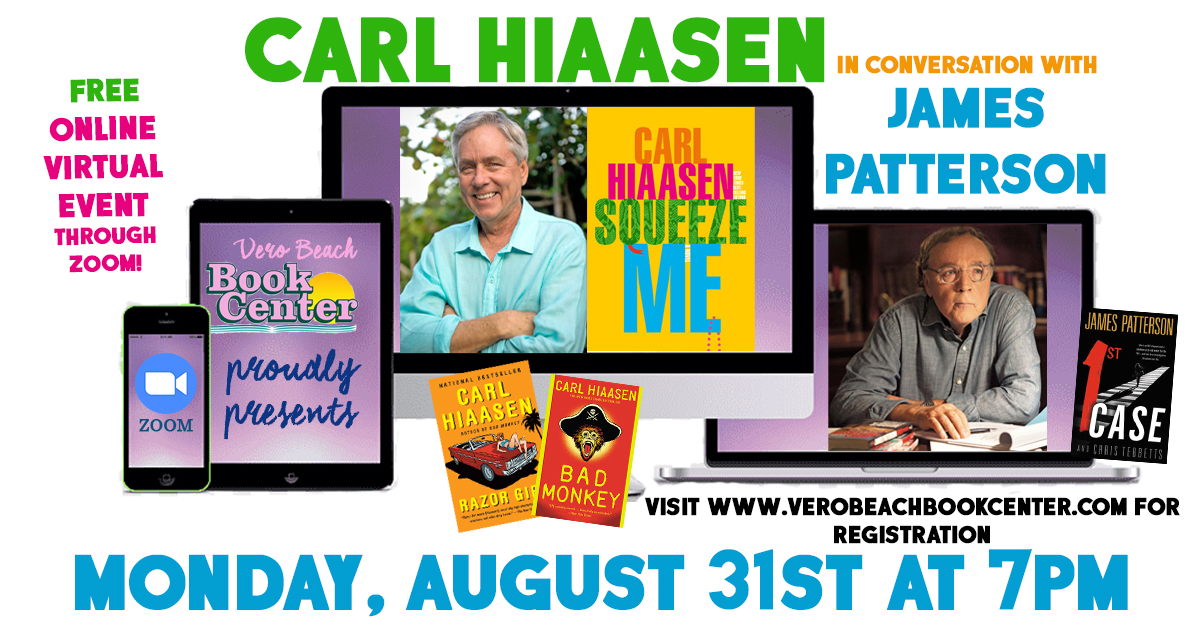 **This is a virtual event that will be hosted on Zoom - you will need access to a computer or other device that is capable of accessing and sufficient Internet access. If you have not used Zoom before, you may consider referencing Getting Started with Zoom.**
Doors open at 6:45pm (ET). Please arrive early to the Zoom waiting room to be checked in to avoid any technical difficulties. Show starts at 7:00pm (ET).
About Carl Hiaasen
Carl Hiaasen was born and raised in Florida, where he still lives.
A graduate of the University of Florida, at age 23 he joined The Miami Herald as a general assignment reporter and went on to work for the newspaper's weekly magazine and prize-winning investigations team. Since 1985 Hiaasen has been writing a regular column, which at one time or another has pissed off just about everybody in South Florida, including his own bosses.
Hiaasen began writing novels in early 1980s, which borrowed heavily from his reporting experiences. Tourist Season, published in 1986, was Hiaasen's first solo novel. GQ magazine called it "one of the 10 best destination reads of all time," though it failed to frighten a single tourist away from Florida. His next effort, Double Whammy, was the first (and possibly only) novel ever written about sex, murder and corruption on the professional bass-fishing tour. Hiaasen is also the author of several popular novels for young readers: Hoot, which won a Newbery Honor, Flush, Scat and, most recently, Skink – No Surrender, which introduces one of the wildest characters in his adult books to a teen audience. Together, his books have been published in 34 languages, which is 33 more than he can read or write.
About James Patterson
James Patterson is the world's bestselling author and most trusted storyteller. He has created many enduring fictional characters and series, including Alex Cross, the Women's Murder Club, Michael Bennett, Maximum Ride, Middle School, and I Funny. Among his notable literary collaborations are The President Is Missing, with President Bill Clinton, and the Max Einstein series, produced in partnership with the Albert Einstein Estate. Patterson's writing career is characterized by a single mission: to prove that there is no such thing as a person who "doesn't like to read," only people who haven't found the right book. He's given over three million books to schoolkids and the military, donated more than seventy million dollars to support education, and endowed over five thousand college scholarships for teachers. The National Book Foundation recently presented Patterson with the Literarian Award for Outstanding Service to the American Literary Community, and he is also the recipient of an Edgar Award and six Emmy Awards. He lives in Florida with his family.